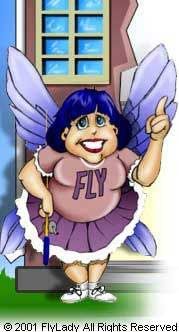 When I first discovered Fly Lady I felt I had found my savior. I absolutely was living in CHAOS (Can't Have Anyone Over Syndrome). I did feel overwhelmed, overextended, and overdrawn. I needed someone to help and I needed it fast! I was going to lose my mind.

I hastily signed up for her emails and dragged out the bleach to start Step One.

I shined my sink until I could see myself in it and informed everyone else in my family that they should be proud of that sink, too! Don't leave your dirty dishes in our nice, clean sink! They didn't share the same pride, however, and I found myself resenting their absolute lack of sink love.

I welcomed Fly Lady's average of 13 emails a day reminding me to put on my shoes (laced!), work in my zone, shine my sink, and get to bed on time.

I tried... really... I did... but I felt that Fly Lady didn't really understand me. She must not have really known how insane my house was. I needed help IMMEDIATELY. After a week of dutifully following Fly Lady's lessons my sink looked nice, but there was still crap EVERYWHERE in my house and I wasn't feeling any less overwhelmed or overloaded. In fact, I felt angry that my family kept dumping dirty dishes in my sink and a tremendous pressure to wear shoes and get to bed by 10:00.

So what did I do? I broke the cardinal rule of Fly Lady. I tried to catch up. I couldn't stand the Baby Steps. I couldn't wait. I wanted to see results more quickly.

I have my house much more under control now and I have my own schedule to make it work. I don't need to get 13 emails in my inbox every day to keep it going (I have enough spam,
thankyouverymuch) and I feel much better. I do try to keep my sink clean and shiny but my feet are bare and free.

So that's what DOESN'T work for me. :) For more things that don't work, check out Rocks In My Dryer!