Today's Thrifty Thursday post is a big one! I'm combining my scores from this week and last week as last week's post featured one of my older finds.

My first find this week was for the boys. Even though Bug's joy for Buzz Lightyear is starting to wane, I won't let him forget how he chose to be Buzz for Halloween three years in a row. Goober is just starting to really love Buzz (and will be using the same costume this year) so when I found these three VHS videos
for $.59 each I snatched them up!


The covers on these aren't in the best condition but the kids have been enjoying them thoroughly since I grabbed them. I'm wondering if the excitement will hold out through the summer.
It was next that I discovered my new favorite coffee cup.
It's from
Caribou Coffee
and I paid $.39 for it. I love it because it's normal coffee cup sized and still has a lid. It's also purple which is one of my favorite colors! The bottom is weighted so it's tough to knock over and even if it did get smacked minimal amounts of coffee would come through the lid to kill my keyboard. :)
I also grabbed these two
LeSportSac
purses for $1.50 and $2.25 at the same time as the coffee cup. These are great purses for Munchkin or even for me to carry around. The prints are cute and they're made from parachute nylon so they're durable and easy to clean.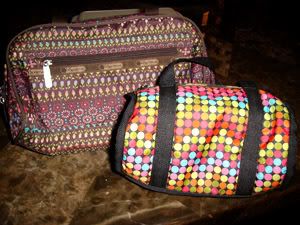 Now
these
were a great find, if I do say so myself!
>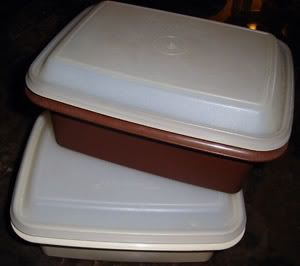 I paid $1.91 each for these vintage
Tupperware
containers. When I was a kid my mom had these with this removable handle contraption so this could be carried as a lunch box. Back then I snubbed my nose at it and favored my Barbie lunch box, but when I saw these on the shelf at my favorite thrift I grabbed them up. Now if only I could find one of those handle thingies!
Next I had to fulfill my girlie reading habit and found these three books just waiting for me!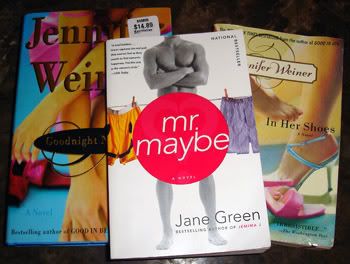 Jennifer Weiner's
In Her Shoes
and
Goodnight Nobody
were my first finds. The paperback was $.39 and the hardback a whopping $1.29. Then I found Jane Green's (who doesn't love Jane Green?)
Mr. Maybe
for another $.39. Look for these on my
Book A Week
giveaway in the coming months. I've already started In Her Shoes so that one will be first.
Since summer is here and The Man can always use cool shirts for beach days and nights drinking yummy rum drinks I ventured over to the men's clothing section to see what I might find. Lucky me! I found for $3.59 each a swanky
Reyn Spooner
cotton camp shirt with vintage woodys and surfing men on it and right next to it was a silk
Tommy Bahama
camp shirt. The Man happily has added these to his collection and boy does he look yummy in them. ;)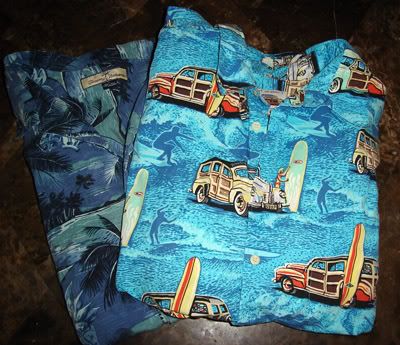 Finally, I was thrilled to find this
Baby Bjorn
carrier for $7 for my favorite preggers mommy. It appears to be in great condition so I'm hoping it works out for her!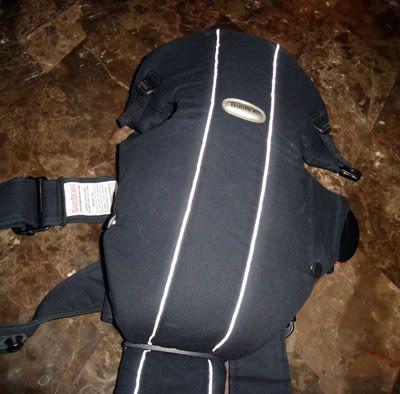 So our total for the past two weeks is as follows:
Toy Story
VHS - $.59
Toy Story 2
VHS - $.59
Buzz Lightyear
VHS - $.59
Caribou Coffee Mug - $.39
Brown
LeSportSac
Bag - $2.25
Polka Dot
LeSportSac
Bag - $1.50
Tupperware
Container - $1.91
Tupperware
Container - $1.91
Goodnight Nobody
- $1.29
In Her Shoes
- $.39
Mr. Maybe - $.39
Tommy Bahama
Shirt - $3.59
Reyn Spooner
Shirt - $3.59
Baby Bjorn Carrier
- $7.00
TOTAL for all the goodies! - $25.98