This week I'll be showing you one of my favorite things about my kitchen. Every time I use this particular feature of my kitchen I'm just so happy about it. Here it is: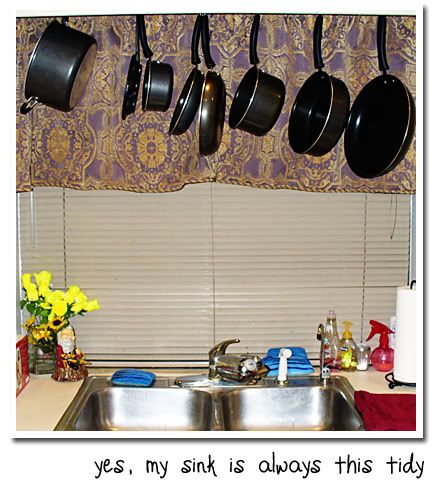 No, it's not my sink. It's the hooks those pots and pans are hung upon right above my sink. When we bought a new set of pots and pans The Man put these nifty hooks up there so I wouldn't have to stack them on top of each other in the cabinet and scratch them all up.
I LOVE it and I thank him for doing it frequently. Now I can just wash the pots and pans and stick them right up there to drip dry into the sink. It's FABULOUS.
Totally
works for me
.
Bonus to anyone who can point out two other things in that first picture that I've blogged about before! I don't know what the bonus is... how about a long distance pat on the back?
OMGOSH - isn't that the most annoying thing ever?! But seriously, if you know of any bloggers you'd like to nominate as the
Little Fish of the Week
, please let me know
here
. I'm really hoping to be able to feature a lot of smaller bloggers like myself but I need to know about them from
you
! So please, please go nominate someone!
Last week's
winner of This Body for the Book A Week Giveaway is Dawn from
Snakes and Snails and Sugar and Spice
! This week I'm taking a break from the give-away but I'll be offering something else up next week so come back to check. :)