I'm so excited to be starting Thrifty Thursday off with one of my favorite things that I've ever scored at the thrift store. I found this a year or so ago on a Saturday at this Goodwill that hardly ever has anything I'll ever like. Not only that, but I never go to the stores on the weekend because they're always jam packed. I was actually there donating our old dining room table, though, so I figured I may as well take a look inside... and that's when I found these!


The Man loves Asian style decor and we decided to decorate our family room in this style. We really didn't have any artwork up at the time, though, so finding this set of four panels was a jackpot! They go perfectly in the room and The Man was thrilled when I brought them home.
They're not in perfect condition but that really actually adds to their draw. The perfect ones you can buy for hundreds of dollars have a cheap feel to them. These are heavy wood panels with real mother of pearl and ivory detail.
We love them. Best of all? I paid $20 for the set.
This week I've been feeling rather poorly so the only day I got out there to ransack the thrifts was Monday. I didn't find a whole lot for the house or family that day but I did manage to pick up this cute little tank top from Gymboree for Munchkin.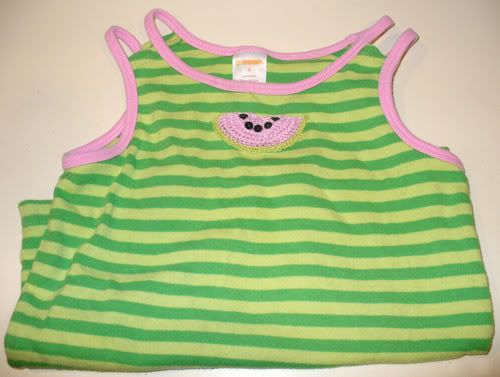 Not a huge find but it is cute. :) It would sell for about $5 + shipping on eBay and I picked it up for a dollar. Munchkin loves it so I was happy to put a smile on her little face.
Tune in next week and I'll show you more of my favorite thrift store finds. Who knows what I might find between now and then!