My parents have always had a house in the Smoky Mountains ever since I was a little girl. Back then it was a bit of a rustic bug shack and now it's more of a grand mountain view lodge - but nevertheless, there has always been a mountain getaway for my family. My dad loves the mountains. He loves to just start walking and see where he ends up. He's got a great sense of direction and he's never gotten lost in the thick forests. The Man and I gave him a hand held GPS once for his birthday and he declared the screen too small to read and gave it back to us. He doesn't seem worse off for not having it.

Anyhow, when I was a young girl my dad used to take me for walks around our little bug shack. I never really knew where we would end up but Dad always seemed to know just where he was taking us. There were times I felt like my muscles wouldn't be able to climb another foot. There were times I came face to face with creepy crawlies I cannot identify. There were times I thought my dad might have lost his mind.

Every time we reached the top of a mountain or the foot of a great waterfall or stood at the edge of a lake reflecting the great mountains beyond I felt humbled by nature. I remember, even as young as seven years old, feeling a deep sense of peace and purpose in those forests. I guess my dad's blood is running thick in my veins.

As I mentioned briefly in this post, I've always wanted to hike the Appalachian Trail. I remember when I first discovered that there was an AT. My dad had driven our whole family up to the top of Wayah Bald mountain. My mom never has been much of a hiker so if she was ever going to see the top of a mountain we were going to have to drive there. While the views were astounding, something else captivated me. It was this sign: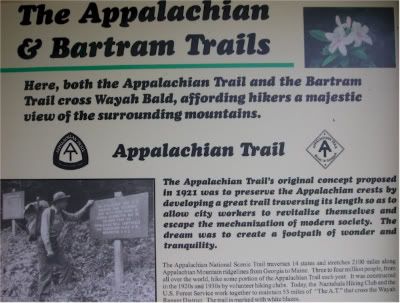 (Okay, I'm not sure if it was actually this sign... but it was a sign a lot like it if not.)

What it says there in the small print is this:

The Appalachian National Scenic Trail traverses 14 states and stretches 2100 miles along Appalachian Mountain ridgelines from Georgia to Maine. Three to four million people, from all over the world, hike some portion of the Appalachian Trail each year. It was constructed in the 1920s and 1930s by volunteer hiking clubs. Today, the Nantahala Hiking Club and the U.S. Forest Service work together to maintain 53 miles of "The A.T." that cross the Wayah Ranger District. The trail is marked with white blazes.

It was then, at 16 years old, that I decided I would hike it one day. Now, when I was 16 I was in pretty good shape. I ran 3 miles a day, spent my summers in the mountains, climbing to the tops of mountains and descending into the Nantahala Gorge to swim. During the school year I spent nearly every free hour I had on horseback or working in a barn. My point is, I probably could have hiked the AT right then and there.

These days... not so much. Fifteen years later I don't think I could run a quarter mile if I was being chased by a bear with an appetite for chunky white girls. I can barely climb the driveway at my mom and dad's current mountain home, much less the mountain it sits on. Still, thoughts of hiking that trail continue to find their way into my head.

First, The Man has taken on an obsession a little hobby of putting together survival kits and supplies which has spawned me thinking constantly about what we would need should we decide to go on a multi-day (week, month) hike. Then a couple of weeks ago I stumbled upon this blog written by a young woman who also plans to hike the AT and has done 1 week of her hike just recently. Then I started reading this book by Carole Matthews about a woman who has recently been dumped and decides to hike in Nepal. (Remember, I get all my books from thrift stores and buy them for $.39 purely on whether I like the cover or not.)

It seems that something is reminding me that this is still one of my goals. This is still something I have to do... and you know what? I'm not getting any younger.

Right now we have three young kids to care for and neither The Man or I are in any condition to be hiking for more than a few hours. So for right now I think I'm being told to prepare... to get ready to go... because that preparation is going to take a LONG time in itself.

The Man and I have discussed that some time next summer (2009) we'll try to do an overnight hike somewhere on the AT close to where my mom and dad have a house. So that's my first goal!