Welcome to the 2nd edition of Thrifty Thursday! This week my best friend (we've discussed her here and even got to see her picture here) found out she's expecting her first child and I think I'm more excited than she is.

Not only do I get to hold a snuggly little papoose in my arms again (with the rate my friends are going at, I figured I was waiting for grandchildren), but I get to shop for sweet little baby THINGS! I can't wait until she finds out whether it's a boy or a girl so I can start loading up on pink and blue.


This week I found her a Boppy
that looks barely used. I have to wonder about that because honestly, I can't imagine having a Boppy and only barely using it. We loved our Boppy. Goober sat in the Boppy for the majority of his infancy as he cried constantly if he wasn't being cradled by it. Our Boppy wasn't just for breast feeding. Our Boppy spelled F-R-E-E-D-O-M.

See? Sleeping baby, cradled by Boppy.

So I found my best friend a Boppy for $1.99. Along with the Boppy, I also found her the bible of pregnancy, What to Expect When You're Expecting
, for $.39. What to Expect the First Year
was another $.39 and to top it all off, the VHS version of Denise Austin's Pregnancy Plus Workout
was a whopping $.59. Now my friend can obsess about every strange thing her body does for the next 9 months, then compare her darling newborn with the guidelines set out by a book, and look great doing it. Yay!


I also found a few books for myself, encompassing varying subjects.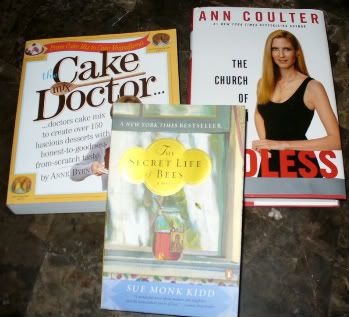 Godless
($1.29) for my mind,
The Cake Mix Doctor
($.39) for The Man's stomach, and
The Secret Life of Bees
($.39) for my heart.
Check back next Thursday to see what I find between now and then. :)