Mah-Meee over at Raising A & C cleaned our her purse today. I figured I might as well go ahead and do it, too.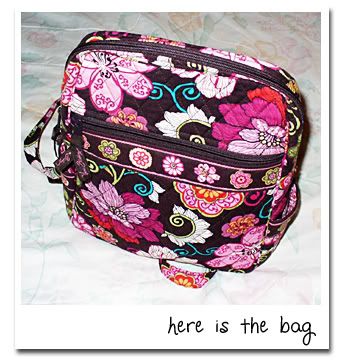 As a mother it is sometimes shocking what I might find in my purse. Odd things that have been found in the past include matchbox cars, a pair of socks, an empty juice box, temporary tattoos, game tokens, broken crayons, and video game cartridges. I could definitely go on.
Today wasn't so bad.
Wallet
Sunglasses
Hairbrush
Minty wipe thingie
Trial packet of Excedrin
Cell Phone
Purell Wipes
Hand Sanitizer
Feminine Products (I really need a little case for them, don't you think?)
Mechanical Pencil
Spare batteries for Camera (the camera should be included here, too... but I was taking a picture with it :))
A pressed penny Goober got at the zoo
Eye drops
Four different kinds of lip gunk
A full unopened box of Crystal Light On The Go packets
Several crumpled receipts and a grocery list
A small book that came in a kids meal from Chic Fil A
Two small CDs that teach children how to speak Chinese that came in kids meals from Chic Fil A
A sample of Frizz Ease sent to me in the mail
It totally could have been worse.
I feel much better now. :)
PS - The purse is a Vera Bradley backpack in Mod Floral Pink and it's GREAT as are all
Vera Bradleys
!