I'm not sure if the grocery stores near you happen to have them, but almost every store near us does. I'm talking about the grocery cart shaped like a car that allows your children to sit inside and steer while you navigate the store.

They come in two versions as far as I can tell:


I understand that the cart is supposed to give a mother some peace while shopping because it entertains her children, but I have a bone to pick with the makers of these "car carts" as my children so affectionately call them.
Why is it that this vehicle can barely turn corners and gets harder and harder to maneuver the more stuff is put in to it. I'm at the grocery store and I'm filling this thing up. I'm tired and I have a family of five to feed for a WEEK! The longer I'm here, the fuller and therefore more difficult to drive the thing gets, and the more exasperated I get.
I've knocked over displays, I've run into other people, I've run over The Man a time or two. Much to the dismay of Munchkin and Goober, I now refuse to even get the silly "car cart" if The Man isn't with me to drive it. Obviously there should be some sort of road test each shopper is given before they're let loose in the store with the thing. And obviously I would not pass.
The Man, of course, has no problem. He can drive the thing with ease and even make "vroom vroom" noises as he goes. He is
so
much cooler than I am.
I know I'm not the only one who experiences this irritation because I've been given the sympathetic look from other mothers as I try desperately to maneuver the darned thing from one aisle to another.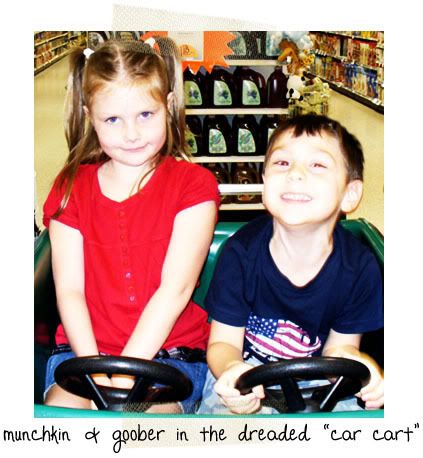 It's just another day in the life of the Spaz.