**Update! The Restaurant.com code until July 31st is CRAVE and now you can get 70% off! That's only $3 for a $25 certificate. Even better!**

I'm sick of cooking. Every day this family of mine wants to eat and they expect me to provide nutritious meals for them. Ugh. Lucky for me The Man and I have gotten a lot more thrifty about eating out and I have to cook a lot less. Works for me!

The first way we're saving coin on our outside dining is by using coupons we buy at Restaurant.com. If you go there and put in your zip code, you can find all sorts of restaurants in your area and you can buy $25 gift certificates to them for only $10. Cha ching! Not JUST that, but if you enter the code "DELICIOUS" at checkout (until the 13th) you can get 50% off of that price. So now they're just $5 for a $25 gift certificate. The Man and I like to use these coupons for the nights that we're child free (it's rare these days) because a lot of the restaurants there are a little nicer. They still have some kid friendly options, though, so even if you never get a night out without the monsters, there should be something there for you.

So when we have to feed the kids, too, we like to go to one of our favorite little Sports Bars where they have a weekly Kids Eat Free night. There are a couple of websites that are supposed to help you locate good "kids eat free" deals but they haven't proven to be very effective for our area at least.... if you know of a good one, let me know!

Now, not only does this restaurant have a "kids eat free" night, they also have a card that we scan every time we go there that accumulates points. For every dollar we spend we get a point and when we get 200 points we get $20 added to our card that we can apply to our bill. We like to go to our restaurant whenever we meet the family for dinner, too, so those points can add up! Last week we visited there for "kids eat free" night and our total bill with an appetizer, main dishes, and drinks totaled less than $30! I can barely feed us on that from the grocery store!

Not only do the kids get free meals, but there is usually some sort of entertainment for them as well. One time they even took all three of the kids into the party room and helped them make crafts while The Man and I enjoyed our appetizers! I could have kissed the wait staff that night!

There is always a balloon guy there and he can pretty much make anything the kids request. Last week Goober requested that he make a brain. Yep, that's my kid. :)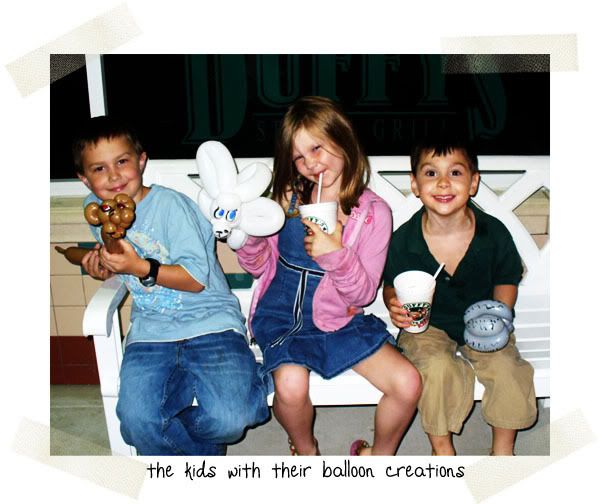 I'm sure there are Kids Eat Free nights in your area, too, and maybe even some loyalty programs like our little card program. If you really try, you can enjoy a night out with the family without having to refinance the house.
For more great tips, check out
Rocks In My Dryer
!
This week will be my 8th book a week giveaway! Last week's winner of
Jemima J
was Lori. Congratulations!
This week I'm giving away
This Body
by Laurel Doud. I read this book a while ago and I packed it away in a box to put in a bookcase if I ever get one. The other day I was searching through that box and found it again and I'm so happy I did! Because now I can offer it to you. :)
From the back of the book:
"What if you had life to live over again? What if you were rick? What if you were skinny? What if you had a second chance to find true love?
Katharine Ashley, in the prime of her life, is a dutiful mother of two whose heart suddently stops beating. Thisby Bennet is a rick and skinny young woman whose dangerous taste for drugs and men leads to her equally untimely death. When Katharine's departing soul finds its way into Thisby's lifeless body, the story of This Body begins..."
From Library Journal:


The premise of this Shakespearean tribute is arresting: a middle-aged housewife dies suddenly of a stroke. A year later she wakes up in the apartment and body of a slim 22-year-old substance abuser, alcoholic, and drug courier, Thisby Bennet. Katharine's painful quest to integrate her consciousness with Thisby's body and its demands and to accept the loss of her former family is beautifully rendered, as is her complex relationship with Thisby's Shakespeare-mad family. Desperate for information about the family she has left behind, especially about her beloved teenage children, Katharine hires a detective, and complications ensue. The names of all the Bennet clan come from A Midsummer Night's Dream, and most of the words they utter are quotations from Shakespeare. This can be annoying, but the richness and intricacy of the plot propel the reader swiftly toward its satisfying conclusion. First novelist Doud is a librarian.


About the Author (from Amazon.com):
"I'm a research librarian with a tattoo of a two-faced woman on her chest. I refuse to wear make-up, but I like to dye my hair interesting colors. I play the classical flute, but listen to alternative rock. I've written a book, but I like to work with my hands. I've restored a carousel horse and I'm currently working on a 1941 Plymouth automobile replete with suicide doors, a two-dead-body trunk, and a backseat girls can get pregnant on. (I grew up in a VW Bug and I always thought, "Yeah, right!")
I have two grown children who I adore and who are into their own versions of body ornamentation and have their own views on life, liberty and the pursuit of happiness. I like Shakespeare but I love movies, and I'm having a wonderful time following the very slow but fascinating process of Hollywood adapting This Body for the silver screen. My middle name is Marian, and the tattoo I got is the same tattoo my character Katharine gets--a Janus symbol of one face looking into the future, the other face looking into the past and both of them guarding the portal into my heart. Life imitates art."
To win this book all you have to do is comment on this post that you'd like to win and I'll draw a winner next Tuesday.
*Book A Week Give-away books are pre-loved copies from my own library that I think are wonderful enough to share. They are not new copies.