If you read my blog regularly then you're probably tired of hearing about Munchkin's birthday. Too bad. :)


In honor of the Sincerely 'Fro Me to You carnival at We are THAT Family, I was going through some old pictures and found some from her 2nd birthday. This one stopped me short.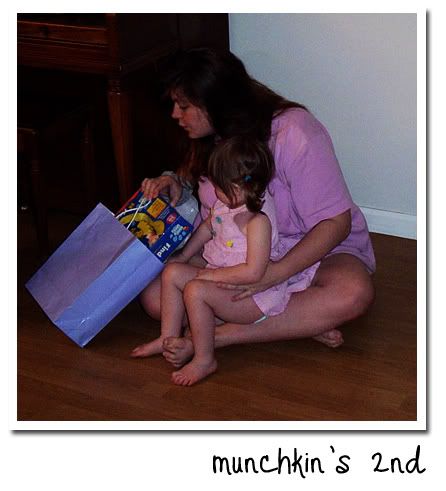 What's so shocking about this picture? Only that I'm 8 months pregnant in it and I'm sitting on the FLOOR! I complain about getting up and down off the floor
now
only 5 years later and not even remotely preggers!
I need to quit my whining and do more yoga.
I can remember this day so well, too. We had been only been living in this house for a little over 3 months and it was August and I was so pregnant and I was hot. I had tried on every maternity outfit I had trying to look decent for the party without being too overdressed and in the end I just settled on this pink Motherhood top that covered that ugly cloth maternity panel in my ugly shorts. In the end no one cared and we all walked around barefoot and casual and I was *so* glad.
I remember Munchkin was fussy the whole day and I was heavy and tired and I just couldn't wait to get everyone out of my house. There were kids running around every where and people asking me how I was feeling
constantly
and so many hands on my belly I wanted to scream.
I think that face about sums up my feelings for the day. In fact, I think that couch is where I was when I broke into hormonal pregnant tears after everyone had left.

She still hasn't shaken that attitude problem.