Is it really Thursday already?

The calendar says it is... so without further ado, I bring you my entry for the Sincerly 'Fro Me To You carnival at We Are THAT Family.

I don't have a lot of pictures from my childhood or mementos from my youth because the house I grew up in was burned down almost four years ago and a lot of those things went with it. I do hold all those memories, though. That's something you learn when you lose so much of the things we all hold on to. The memories are still all there... sometimes it just takes a reminder to bring them back.

When I was two I was given a doll. It was a simple cloth doll and I named her Amanda. She was HUGE. She was almost as big as I was and therefore I deemed her my best friend. She had curly blond yarn hair and I loved her curly blond yarn hair. In fact, I loved it so much I truly wanted curly blond yarn hair of my own. Amanda was always sleeping (her eyes were always shut) and had a peaceful smile across her face. I loved her.

I remember being in awe that there was a doll so large! I held her hand and dragged her around with me as many places as my mother would allow. I once got something brown and sticky in her curly blond yarn hair and it never really came out. It dyed a patch of her curly blond yarn hair brown which always made me sad.

Over time Amanda became dingy and dirty and she must have been put away and forgotten about as I grew older. Every once in a while I would think about her and wonder what happened to her.

Several years ago I was helping my dad clean out the attic in my parents house and I found her in a black garbage bag filled with other dolls and stuffed animals from my early childhood. Amanda was dingy and her curly blond yarn hair was pulled in places and still had that brown stain in one spot. Mostly I was shocked at how small she was. She was no bigger than the length of my arm and her tiny little arms didn't even fill the palm of my hand.

I smiled and put Amanda back in the bag and left her in my parents attic. When the house burned down I was sure I had lost her forever.

Until I found this picture a few weeks ago.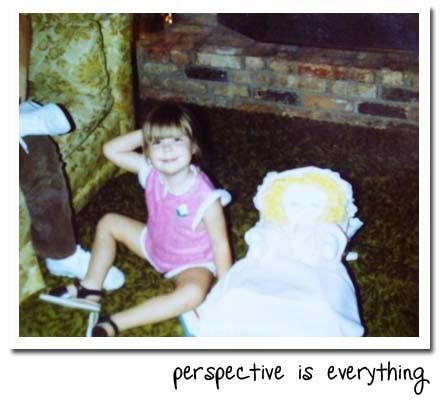 There we are, Amanda and me. She's still clean and new in this picture (heck, so am I!), sleeping on the shag carpet. This is just how I'd like to remember her. She was a great friend. :)