This week's decision was TOUGH. We only had three nominees but they were super high quality nominees. The Little Fish Panel deliberated and finally we chose the fish we thought stood out above the rest, if only just a little bit. :)

The nominees were
Backpacking Dad
The Jason Show
Melizzard

And honestly? Seriously? Go read them all. Subscribe to them right now because this trio of bloggers will have you captivated.

But alas, a winner must be chosen and therefore we chose.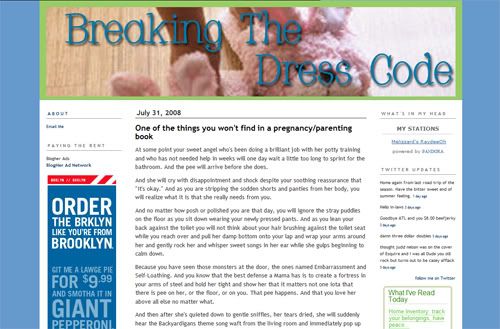 Melizzard
took the prize. We all found our hearts fluttering while reading her posts and being drawn into life with her family. She's got five new subscribers in the Little Fish Panel and hopefully a whole lot more with y'all. So if you don't already love
Melizzard
you're about to. Cause you won't be able to help it.
Here's some code for you,
Melizzard
! We hope you'll wear your Little Fish badge proudly!
We hope to get more nominees this week! I'll close the nominees out at a maximum of 8 so we have time to read them, so please nominate your favorite lesser known bloggers in the comments section of this post, or
tweet them to me
on twitter!
Qualifications for nominees are:
1. Nominees must have an
Alexa
ranking of over 1,000,000.
2. Nominees must not be featured on
Alltop
.
*bribe* Everyone who nominates and all the nominees get a link back from my blog in the sidebar! */bribe*
Special thanks to the Little Fish Panel!
Bio Girl
,
Apron Strings & Angst
,
See the Woods and the Trees
, and
Mah-meee
! If you'd like to be a member of the Little Fish Panel, go join up at
The Place for my Peeps
and join the Little Fish Panel Group!
*Nominations are closed, thanks y'all!*