I just finished our final entry for the Disney Cruise trip over at Traveling Spaz.

That was sort of exhausting... and sad to be done with. :(

But in happier news I got an award! Back in August, I was given this award by Every Day Baby Steps and it made me all giddy and happy. And then today I got it again!

This time Soccer Mom bestowed it upon me and again I got to feel giddy and happy. :)


Since I've already passed it along once, I'm going to break the rules and not pass it on again, but thanks
Soccer Mom
!!! That really made my day. :)
Now... speaking of awards... I have a little award that I've been giving away on my blog for a while now. You may remember it as the
Little Fish
award.
Unfortunately this month I got no nominations for the Little Fish award and actually, the past few awards were kind of tough to get nominees for so I guess, like so many fish in my past, the Little Fish has gone belly up.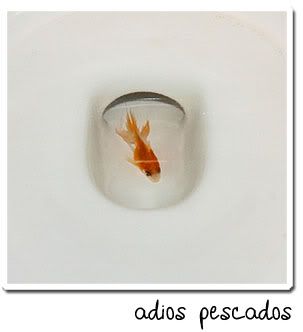 I'd like to take a moment to recognize those who have won the award in the past:
Little Fish Hall of Fame
Life With Three
katydidnot
Melizzard
Morningside Mom
Me and You and Ellie
She Just Had To Say It
Be the Cake
Stop Screaming, I'm Driving!
All eight of you are superfantastic. :)
Let us all have a moment of silence for the fish.
*flush*