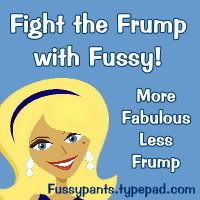 It's Friday and that means today we're Fighting the Frump with Fussy!

Last week my post was all about taking some quiet time for yourself and so this week I'd like to touch on another type of time all women should take. Girl time.

As much as I love The Man, there's just something about time with my girlfriends that is irreplaceable. I'll never be able to sit with The Man and giggle about my latest domestic screw up, argue over who needs to get a pedicure the most, or lament over how much weight we've gained over the past few years. They'll never never tell me I shouldn't have bought new shoes.

Now, I take girl time even less often than I take quiet time. Part of this is because several of my girlfriends have decided to up and move to other parts of the country... but mostly this is because I constantly decide I can't take an afternoon or an evening out for myself. There's always something I could or should be doing at home (laundry, cleaning, scout meetings, cooking) and I always feel bad leaving the kids with The Man, even though he's absolutely wonderful with them.... they always get to bed on time when he's in charge.

I've noticed something when I do take the time to go hang out with a girlfriend, though. I almost ALWAYS come back happier, more relaxed, and completely ready to take on my mom/wife duties with vigor. So even though The Man and the monsters have to live without me for a few hours, we're all so much happier to see each other when I return.

If that's not fighting the frump, well then I just don't know what is.

PS - How are y'all doing with the Quiet Time Challenge? I've managed to spend a half hour doing some yoga with no interruptions this week. Fabulous.

For more frump fighting, check out Fussypants!