I know we all struggle to get those 8 to 10 glasses of water in a day. It's good for our skin, it helps us lose weight, yada yada.

If you're anything like me, you want to know EXACTLY how many ounces you've ingested so you can move on to the good stuff!


Rather than purchase prefilled bottles that tell you just how much you're drinking, I suggest drinking from a mason jar.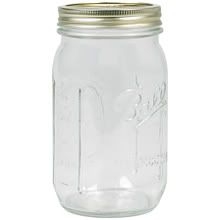 Yep, that's right. Just like Grandma used to have. The good thing about the mason jar is it has measurements right there on the side so you know just how much you're drinking without sucking from a measuring cup.
See? People just look at you funny if you do that.
So that's what works for me!
For more
Works For Me Wednesday
posts, check out
Rocks In My Dryer
!