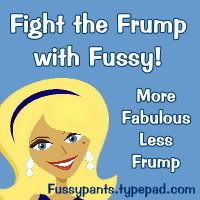 It's Friday and that means we're Fighting the Frump with Fussy today!

Today I'd like to take a moment to talk about something that most of us don't get nearly enough of. At least I don't. :)

Quiet Time.

For me, I call this meditation and it's something I like to try to do at least once a day. I even have a wonderful meditation cushion set that The Man purchased for me for Christmas to keep me comfy. It's almost March and I've used it exactly five times.

It seems from the moment we wake up until the moment our heads fall exhausted on the pillow we're going.

We're thinking, we're listening to something, we're talking, we're watching, we're cooking, we're cleaning. What has to get done? What needs to be bought? Did I wash school clothes? Do I have something to make for dinner? I need to update my blog, I need to respond to those comments, why aren't more people reading my blog? Did I RSVP to Jimmy's birthday party? What present should we buy for Jimmy? I need to get the oil changed. I want to watch American Idol. I want to get my hair done. I sure could use a pedicure. When was the last time I scrubbed the toilet? I think I might be coming down with something. I don't have time to come down with something!

STOP!

It has to stop! We're running ourselves absolutely ragged and worrying about yesterday and tomorrow so much that we've forgotten to stop and focus on the NOW. Stop and take a breath and quiet your mind and just let the present embrace you.

So that's my challenge to help you fight the frump... once a day if you can or once a week if you can only do that, just take a break for yourself and be quiet. Stop thinking and stop doing... just for a few moments... just be.

You'll feel better, be more focused, and in turn be a lot less frumpy!

For more Fight the Frump posts visit Fussypants!