Today's Sincerely 'Fro Me To You picture is one that has been taken at least ten times before. My dad, standing at the edge of the Atlantic ocean with one of his grandchildren, just taking it in.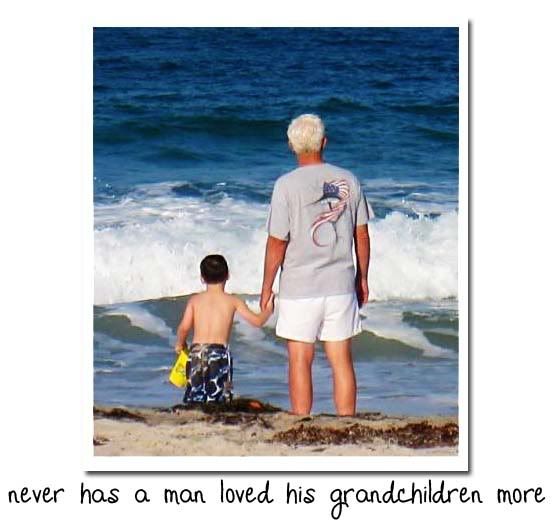 I'm fairly certain my sisters could pull out several shots just like this one with their own kids and every single one of them makes us all smile.
My dad lives for his grandchildren. I'm not sure there has ever been a man who is willing to do more for his grandchildren. He bought a condo on the beach so they would always have memories of the beach with their family. He bought a house in the mountains so they could remember family vacations in such a breath taking location. He takes us on amazing tropical vacations every year just so we can all be together and so his grandchildren have incredible childhood memories.
He would stop at nothing for them.
Goober's birthday is Friday and today I called my Dad to ask him if he had gotten a present for him yet. We'd gone to Toys R' Us today and after we had gotten some things for him from us, I noticed something else I thought Goober would like and wanted to give him an idea if he needed one.
But of course, Dad had already gone shopping. As I listened to my dad read off a list of at least four
perfect for Goober
things he had purchased (including the very LAST Wall-E remote control robot that I
know
he's just going to blow his little five year old lid off for), I couldn't help but smile at how much he loves to spoil these kids.
I sure hope they learn to appreciate him some day.
For more great Sincerely 'Fro Me To You posts, check out
We are THAT Family
!
PS - Whoa, I'm really getting sappy lately, aren't I? Hopefully the wit and sarcasm will return soon...