Okay, so back in September The Man's cousin and I decided to have a garage sale. We didn't do very well with it and at the end of the sale I noticed that she hadn't sold this artificial Christmas tree and she was going to take it to Goodwill. Now, for a few years I've been debating getting an artificial tree but then I decide I'll wait until after Christmas when they're sure to be on super discount and I just end up never getting one.

So I was super excited and all giddy as I snatched her tree up and threw it in the back of the van. This evening I decided to drag it out and put it up. My first artificial tree! I began to imagine us all sitting in the living room drinking cocoa by the light of the tree for the next month.

I grabbed the box and put it on the couch in our living room and opened it up.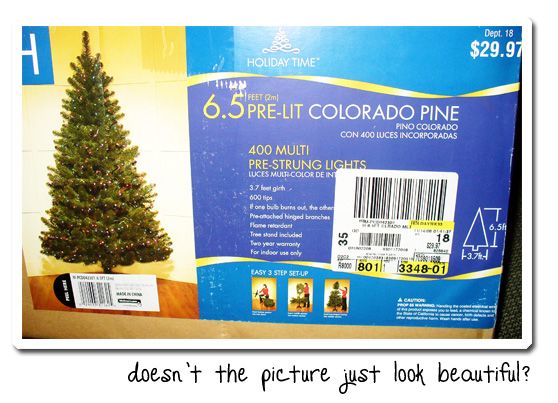 My first clue that this might not be the tree I was hoping for was that it came with its own tree stand. The tree stand seemed... well...
less sturdy
than the tree stand we always use.
But still I happily assembled the stand and started on the tree. In three pieces our tree came together. I stood back and looked.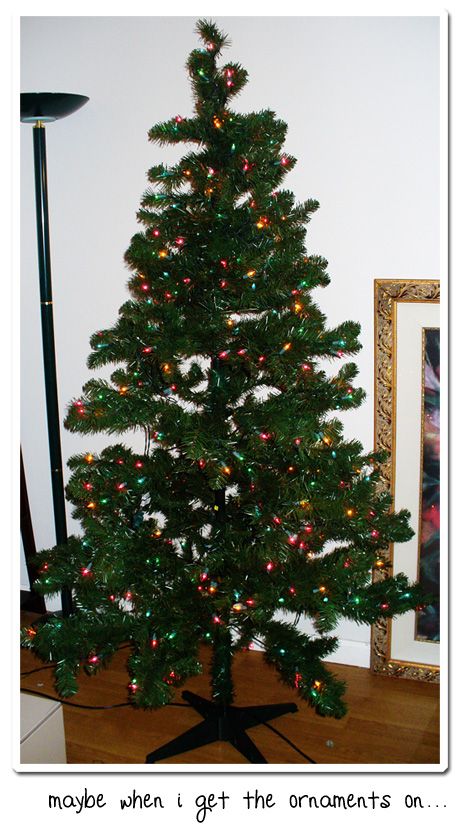 Perhaps I have been spoiled by our trees in the past. This tree says it's 6 1/2 feet and we always shop in the 6 to 7 foot section of the tree places so I was a little shocked at how short the tree is. On the real trees I'm always dragging a stool out to put the angel on the top. But hey! No stool required on this one! That's good, right?
I probably should have realized that I wouldn't have been able to hoist the box for the tree I was imagining all by myself so easily. Then I noticed the clue I should have picked up on way back in September.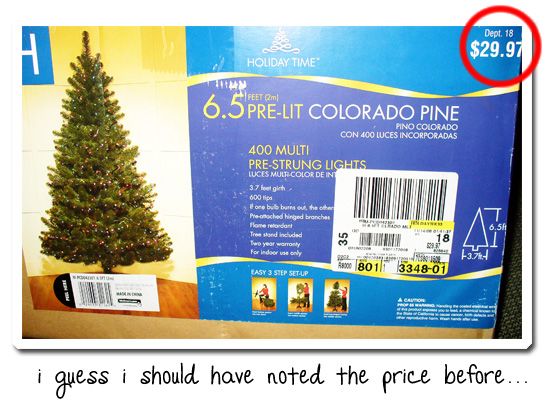 Now I see why she wasn't at all concerned about getting rid of this beauty. :)
Eh... it may not be the perfect tree, but I'm going to jazz it up anyhow. And then I'm totally hitting those after Christmas sales
this
year.