Today's Sincerely 'Fro Me To You post comes to you direct for 1969. I wouldn't make my presence known to my family for another 8 years, but I've heard so many stories about this time in my family's existance that I almost feel like I was there.

It was this year, I've heard, that my mom and dad packed up their two little girls and traveled clear across the country. In the summer of 1969 my dad was a dapper young man of 26 and my mom was a fresh faced girl of 23. Their little girls were my sisters B1 and B2 who were 3 and 2.

They traveled across the country from Florida to California or maybe from somewhere else, I don't know, they were driving a lot, and they decided to stop at the Grand Canyon.

Only the approach to the Grand Canyon was nothing like what we would do today with our GPS sattelites and online driving directions. No, they had a map. A map that my 23 year old mom read while my 26 year old dad drove. In a car with a bad transmission.

So they wound their way up and down roads and found themselves here, at the edge of the Grand Canyon.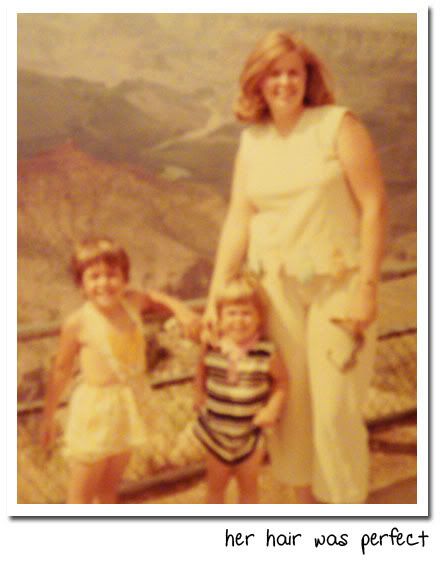 When I look at this picture I always think of how fresh my mom looks. How young and beautiful she is. Her smile lights up the picture. I'm amazed how she looks perfect for 1969 and yet still perfect for today.
My dad looks like he stepped out of a Beverly Cleary novel. No, not one of the Ramona books... more like
Jean & Johnny
. Didn't you all read that as a kid, too? I'm not sure why B1 has no shirt on under her jumper... I can only guess it was because it was probably 102 degrees in their car with no air conditioning in the middle of the desert. I'm also unsure as to why my mom cut their hair so short. I suppose it was for ease of care.
About 13 years later my mom would chop my hair in a similar fashion and I would spend the next 5 years explaining to well meaning strangers that I was a girl because they wouldn't let my pierce my ears. But that's a topic for another entry.
For more
Sincerely 'Fro Me To You
posts, check out
We are THAT Family
!