Today is Friday and you know what that means...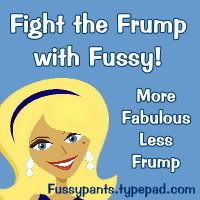 Did anyone watch Larry King Live last night? I'm not going to go into my opinions on polygamy and underage girls being forced to marry old men here. We're fighting the frump today and have other things to talk about.

I want to talk about this woman:




There she is, front and center.

My heart goes out to this woman. Her child has been taken from her, which is quite possibly the most frightening thing that can ever happen to a mother. I truly feel for her and I empathize strongly with her pleas for the children she loves to be returned to their home.

But that's not what I want to talk about.

I want to talk about the fact that this woman needs a good pair of tweezers. Can you imagine being on Larry King with that unibrow? If there is a crime being committed on that compound it is truly the lack of facial hair control!

This is what can happen if we let the hair go. This is the horror that can ensue.

So don't forget your tweezers, your wax, your razor, or whatever you choose to use. Fight the unibrow, girls!

For more Fighting the Frump posts, visit Fussy!