Friday night it was pretty late when I was washing dishes and heard a bark outside our kitchen window.

We don't have a dog and we've never had a dog so my first assumption was that one of our neighbor's dogs had gotten into the yard. Since their dogs aren't typically the nicest of dogs I nervously called to The Man to check it out.

He turned on our porch light to see the happiest little face out there just wagging his whole body and hoping for someone to feed him.

So I gave him a hot dog... and then I cooked him three eggs. Yes, I cooked him three eggs.

Saturday night the kids were at my mother in law's house and The Man and I decided to go to the drive in. We watched 2 1/2 movies (another story for another entry) and got home pretty late.

As we pulled in the driveway, the sweet little dog was sitting in the middle of our driveway seemingly waiting for us to get home.

So I gave him the butts of the banana bread and a hamburger bun.

Yesterday I bought some Kibbles N Bits and now he's happily eating it.

The kids have been playing with him all day.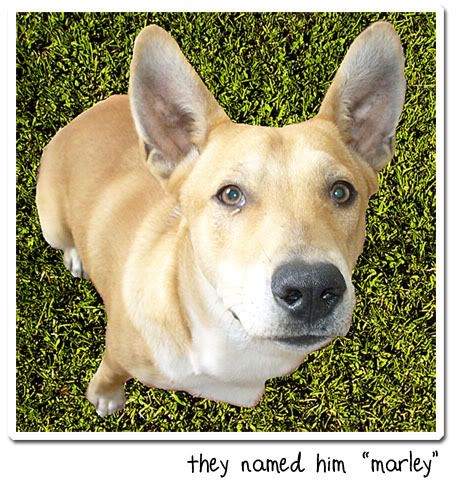 Other than him being pretty smelly and without a collar of any sort, he appears to be somewhat taken care of (neutered) and very good with people. If we were able to keep him securely in the yard I'd put up signs but since I can't be sure he'd be here if his owner called I won't do that.
If he's still here on Friday we'll take him down to Animal Control and see if he's chipped. After I give him a bath.
**Edit**
After thinking about the poor 10 year old little boy that just might be looking for his dog right before Christmas I decided to pack up the kids and head down to the Animal Rescue League today to see if he's chipped. We've found that he's not chipped and also not neutered (they're just really small). So.... I filed a found dog report and if no one calls about him within 2 weeks we'll go ahead and get him chipped... as
ours
.
At this point we've let him in the house and he's sleeping peacefully at Bug's feet. Time for a bath. :)