My parents have this hot tub. And, as their favorite daughter, they allow me to use it pretty much whenever I'd like to. (They allow my sisters to use it whenever they want to, as well, but that doesn't diminish the fact that I'm their favorite.)

Since the past week or so has been particularly stressful, The Man and I decided to partake in some hot tub time the other night.

It was so relaxing, so quiet and calm, and we were really enjoying feeling our muscles relax and the hot water and the bubbles and the beer. Sounds lovely, doesn't it?

It was at night and we left the lights on the patio mostly off, you know, for ambiance, and when I looked down I noticed a leaf was stuck to my arm. Stray vegetation occasionally finds its way into the hot tub, even though the patio is screened in, because there are lush plants and stuff inside the enclosure. I thought nothing of it and just reached over to pull said leaf off of my arm.

And that's when the leaf hopped.

Have I mentioned my irrational, intense fear of frogs on the blog before? Evidently I've mentioned it, but I haven't elaborated. Frogs are the scariest things in the world to me. When I was a kid, they weren't a big deal. In fact, I really loved them as a teenager and even had a little necklace with a silver frog on it because I thought they were so cute. They are cute. As long as they're in pictures or behind glass. But if a frog has the potential to jump on me, it invokes a terror inside of me that I can't quite explain. It's irrational... I mean, no one has ever been hurt by a frog that I know of. Aside from poisonous frogs and I don't think I've ever come into contact with one of them. But it's not the idea that it might be excreting deadly toxins from its slimy skin that scares the crap out of me, it's the unpredictability of them.

Pretty much every other creature in the animal kingdom (aside from gigantic predators that are really hungry maybe) will run away from a human if one comes near. Lizards, snakes, toads (toads and frogs are not the same thing), mice, rats, rabbits, birds, wallabies, aye ayes (my precious), bats, armadillos, and everything else all run away when a human comes near.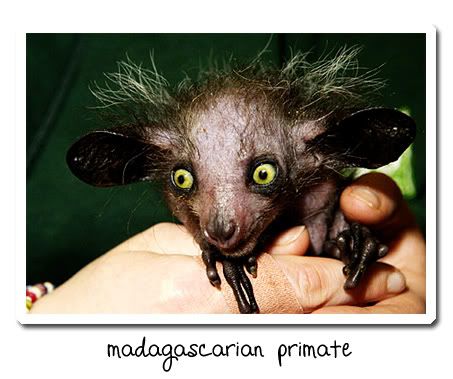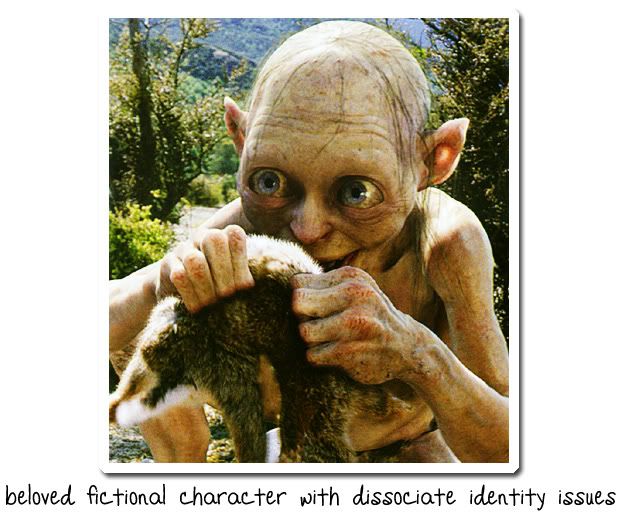 If you don't see the resemblance, I just don't know if we can be friends.
Frogs do not. Frogs hang out, look directly at you, and then
jump on your face
. And sometimes, while on your face, they
PEE
. So my fear isn't
completely
irrational.
Yes, I know the frog, even if it pees, is not going to
kill
me or probably even make me sick. But I am terrified, nonetheless.
So when this "leaf" proved itself to not be a leaf at all, but instead proved itself to be a tiny frog disguised as a leaf, I freaked out.
Maybe freaked out isn't even an accurate description.
I didn't scream, I couldn't scream. I didn't run, I was paralyzed. I merely clung to The Man as if he was Superman and we were flying 30,000 feet above the earth and if I let him go I would plunge to my death. I did not breathe, I did not talk, there were no words.
The Man continued to try to calm me down. I was wide eyed with terror, clinging to him, digging my fingers into his back, and looking wildly around to see if the frog was anywhere preparing to make a second attack.
When I could finally speak again, the only thing I said was "Where is it??!??!?!"
He assured me it was gone, that I had probably traumatized it.
I had traumatized it.
The Man pryed me, crowbar style, off of him and, when my legs had returned to a solid from their gelatinous, terrified state, we left the hot tub.
Relaxing, my ass. I have never been so tense before in all my life. Literally, I would rather be held at gun point than have a frog jump on me.
Make me feel better, Internetz. Share your irrational fears with me so I don't feel like such a complete dumbass. And maybe some day I'll be able to get back in the hot tub.