It sure has gotten dusty around here, hasn't it?

I have no excuse for not posting in almost 2 months... life hasn't really been busier than it ever was before (I mean, except for the holidays and all - whew!), there haven't been any illnesses or worse, and my computer has been working just fine.

I just haven't wanted to. I guess I haven't felt like I had anything really important to say lately.

Things around the Spaz household have been busy as usual. November brought us some cooler weather (thank goodness!) and The Man has been busier than ever with his plans to take over the world. In fact, he's gotten so busy that he put in his two weeks notice with the security business just before Thanksgiving and is now focusing all his efforts on world domination.

Thanksgiving was a wonderful, albeit short, vacation to my mom and dad's house in North Carolina where we searched for snow (but didn't find any) and enjoyed the welcome break from Florida's heat.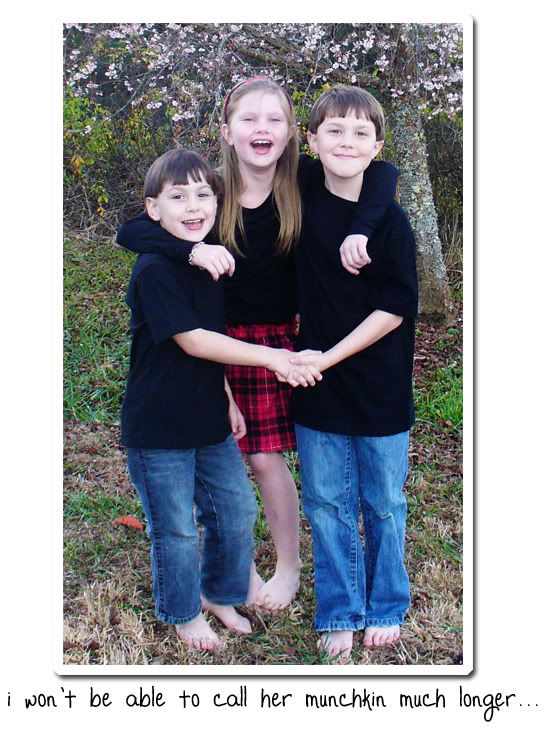 I managed to snap this great picture of the kids for Christmas cards just before my camera died, never to be revived again.
We made the long trek back to South Florida Thanksgiving night so The Man could report for work the next night and life got back to normal for a little while and then before we knew it Bug was turning 10.
When it hits me that I've been a mom for an entire decade it just boggles my mind. You'd think I'd have a good grasp on this whole motherhood/parenting thing by now, right? Wrong.
Bug had a great birthday at Lion Country Safari with one of his friends from school. We fed giraffes by hand, we saw giant alligators, and of course, lions. The kids frolicked in the water park area and we ate greasy funnel cakes. Of course, I have no pictures because my camera died... did I mention that already?
And then just when I thought I was getting a grasp on the insanity that is my house, Christmas came along to ruin any sort of control I may have thought I had on the chaos. The Christmas tree went up (with much wailing and gnashing of teeth on The Man's part), the kids decorated it all by themselves (and it looked honestly, just about as good as I've ever done), the presents went under and then the day finally came.
At 7 AM (not too bad, don't you think?) we were woken by the angelic voice of Goober. "Hey guys! Get up! It's CHRISTMAS!!!"
And the mayhem began. Wrapping paper and ribbons that I had so carefully put together were torn and thrown into the air. We struggled with clamshell packaging and twisty ties and screw drivers needed to install batteries. It was beautiful. And it was only the beginning.
In total our kids get FOUR Christmases. One at The Man's dad's house on Christmas Eve, one in the morning at our house, one at The Man's aunt's house, and one at my mom and dad's. It makes for three very sugar filled, dazed, and jolly children.
Yesterday I just couldn't take it anymore and I took down the tree and put away all the Christmas decorations until next year. I just can't wait to get my house back under control.
Unfortunately it still looks like Santa Claus and about ten of his elves (and perhaps a couple of reindeer) had a giant drunken party in my living room, but I'll get it under control soon enough. :)
How was your holiday this year?