My trip to the wonderful city of Pittsburgh was lovely, but Monday afternoon I was ready to jump on a flight home and see my family.

Jenny drove me to the airport and dropped me at departing flights, we hugged, and I rolled my carry on into the airport, very happy to be going home.

I got to the little Delta self check-in machine and entered my confirmation number.

"It's too late to check in for your flight."

Excuse me?

I entered the number again.

Sure enough, Delta had been so kind as to cancel my original 4:30 flight and put me on a 1:30 flight without any notification whatsoever. No phone call (yes, they had my cell phone number), no text message, no email.

In fact, the people at Delta couldn't get me home at all on Monday. Nope. I would be staying in Pittsburgh another night.

I was comped a room at the Hyatt attached to the Pittsburgh airport and put on a 5:30 AM flight out Tuesday morning. Delta was even kind enough to give me a voucher for $7 for dinner and one for $7 for breakfast. Thanks, Delta.

I hope you're picking up on the sarcasm here.

I checked into my lovely room at the Hyatt (it really was a nice room and the service at the hotel was wonderful) and decided to order room service.

What can I get for $7?

Um... nothing.

I decided to order a blue cheese burger and fries for $14 (plus a $3 delivery charge and 20% gratuity and I think something extra for the cheese) and jumped in the shower. It was a lovely hot shower with delicious smelling white ginger shampoo and soap.

Before I was even dressed the burger had arrived. I scrambled to get my clothes on and opened the door. And my burger? It came with the most adorable little Heinz condiment bottles!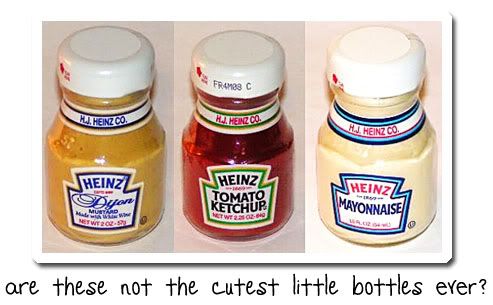 I ate, Jenny came back and visited me, I sent the little Heinz bottles home with her, and I tried to get some sleep.
Now, the beds at the Hyatt are like queen sized clouds of happiness. But I still couldn't sleep. I began the attempt around 9 and it wasn't until after 2 that I finally found sleep.
Remember when I said my flight left?
Yep, the wake up call came in at 4:00 AM and I was not happy. I managed to pry myself out of bed after my 10 minute reminder call and get my crap together. Back to the airport I went.
I got on my 5:30 flight with no problems and landed in Atlanta to make my connection to West Palm Beach. My boarding pass told me I had 50 minutes to get to gate B12. In Atlanta that means
"MOVE YOUR ASS!!! RUN!!!"
We pulled into gate A33 and I hauled ass to get to gate B12.
And when I arrived I noticed that the plane leaving from gate B12 was going to White Plains, NY.
Thanks again, Delta.
I had to locate someone to help me figure out what gate I was supposed to be at and it was then I was told I had to get back to concourse A and get to A2.... the absolute farthest point in the concourse.
As I was hauling ass a Delta Sky Miles representative hounded me to stop and learn how I could get my next flight on Delta for FREE! And I told her I wouldn't be flying Delta again so that wouldn't be necessary.
I hauled even more ass, arrived at gate A2 just as they were boarding, and made it on the plane.
And when we began our descent into West Palm Beach, I had to fight back the tears of joy. It's good to be home.